Published: 27 November 2019

27 November 2019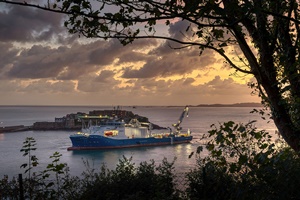 The new system provides real-time monitoring and data collection during cable lay ensuring optimal layback tension, departure angle and touchdown position without any physical contact with the cable.
The Cable Laying Monitoring System has been specially designed by NKT in close collaboration with the software company 4D Nav and is integrated into the hull of the NKT Victoria. With the hardware hull integration and software integration into the vessels standard survey system the cable touch down monitoring is not sensitive to high currents like traditional monitoring based on Remote Operated Vehicle (ROV) positioning. They have put the new system to the test during the cable laying between the Channel Islands Jersey and Guernsey in October.