Published: 17 November 2020

17 November 2020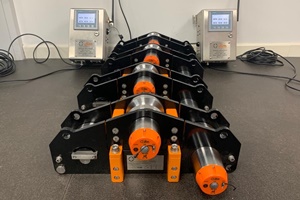 Dynamic Load Monitoring (UK) (DLM) has added a 15t capacity mini Wireless Running Line Monitor (RLM) to its range of products for the wind energy sector. The system records load, speed and distance against time.
DLM already provides a variety of products to the onshore and offshore wind industry, including larger 60t and 200t capacity RLMs, which measure tension on wire rope. The systems are used with a TW-3.0-T handheld display. There is a version of the handheld that allows data logging to a USB stick plugged into the base(TW-3.0-T-A), while the TW-3.0-T-S is able to provide an RS232 output to a ship's survey suite. The 15t capacity mini wireless RLM features marine grade DP4B bearings on all wheels and a gauged shear pin load cell. The entire range is designed to be used in harsh environments. The RLMs can be supplied with various diameter wheels to suit particular rope diameters.