Published: 13 November 2019

13 November 2019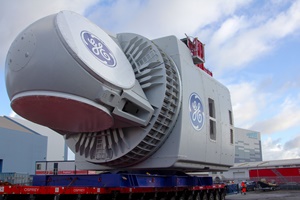 A nacelle from GE Renewable Energy's Haliade-X 12MW offshore wind turbine has arrived at the Offshore Renewable Energy (ORE) Catapult's testing facility in Blyth, Northumberland, UK.
This nacelle will undergo full indoor testing as part of a technology programme, replicating real-world operational conditions. GE Renewable Energy is investing close to £15 million in testing and research and development activities on the Haliade-X in the UK. In addition to the nacelle and blade testing programme, GE and ORE Catapult are also developing the "Stay Ashore!" programme, which aims to reduce the time people spend at sea, increasing safety and contributing to energy cost reduction by focusing on developing technology in robotics, digital and remote operations.