Published: 26 June 2019

26 June 2019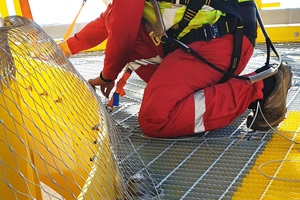 Dropsafe has announced that offshore wind developer Formosa I Offshore Windfarm (FOWI) has adopted the Dropsafe Net dropped object prevention system, in a bespoke installation across the 20 Siemens Gamesa turbines at the Formosa I offshore wind farm.
Six operational turbines at Formosa I, near Miaoli, off the west coast of Taiwan, have already been equipped with the Dropsafe Net system, ahead of the remaining 14 turbines that will be installed during summer 2019. At Formosa I, a bespoke Dropsafe Net design, made of SUS 316 Japanese stainless-steel, has been installed between the external landing platform and the tower of the Siemens Gamesa SWT-6.0-154 turbines. This allows FOWI to mitigate the risk of Dropped Objects falling from the landing platform into the sea.