Published: 25 June 2019

25 June 2019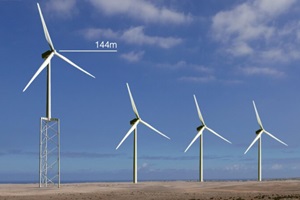 Nabrawind Technologies has signed the sale of its first Self-erecting Nabralift tower, which will be installed in Morocco and will become the tallest tower on the African continent with a hub height of 144 metres.
This tower allows the installation of a complete wind turbine (tower, nacelle and rotor) without using large-size cranes regardless of the final hub-height thanks to the Self-erecting System (SES). The SES is conceived to install the lowermost sections of the tower at the last part of the assembly process. For this purpose, the SES is able to hoist the WTG in intermediate stages and install tower sections underneath it. Another aspect of Nabralifit is its piled foundation. Unlike the gravitational foundation, which for a tower of this size would require 500m3 of concrete and 60 tons of steel, Nabralift's piled foundation requires only 80m3 of concrete and 10 tons of steel.