Published: 07 June 2019

07 June 2019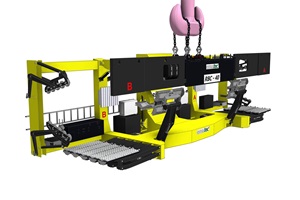 Ematec has developed a new rotor blade traverse system.The new rotor blade traverse system Clamp RBC is able to grip all blade shapes available on the market - even future blade shapes.
This is made possible by an automatically adaptive blade support which also ensures a variable compensation of the centre of gravity. In addition, what makes the RBC so special is its tilting angle of ± 60 degrees.
The RBC adapts itself exactly and individually to every rotor blade shape and can handle any blade shape with a weight up to 40 tonnes. Given the fact that the tilting angle has been enlarged and due to an adaptive blade support, the RBC can be used in a universal way in the wind power industry - both onshore and offshore.
The RBC is also available as a GreenLine version. Instead of a diesel engine, an electro-hydraulic unit with battery is used. The battery is designed for a working temperature of -20 degrees Celsius and for a working time of 16 hours and has a charging time of 2.5 hours.