Published: 29 May 2020

29 May 2020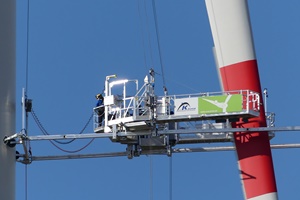 Käufer Befahrtechnik has started series production of its new rotor blade access system with mechanically openable gangways. The new, TÜV-certified K-BP-4 access platform is suitable for all service operations of onshore wind turbines with hub heights of up to 200 meters.
The new access system allows the inspection and repair of rotor blades with tips up to 17.5 meters away from the tower. As the access platform is operated using three cable winches, it is suspended in a stable manner. Due to the positioning of the cable winches, all blade areas can be reached, right up to just below the nacelle. Thanks to the hinged side arms, it is possible to safely access all three winches, thus ensuring that emergency descent is always possible. This means that any emergency evacuation of the technicians by rope is not necessary. The new TIRAK winches have a payload of 1,150 kilogram. Infrared lamps ensure that the service technicians can work optimally even in the cold, the dark and in high humidit. Käufer can also supply external weather shelter, which protects the system against both bad weather and high solar radiation.