Published: 29 May 2020

29 May 2020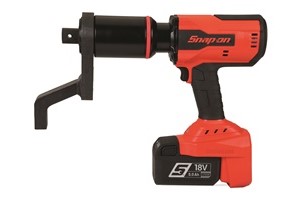 Snap-on Industrial has introduces its new Cordless Torque Multiplier (CTM). A heavy-duty tool capable of delivering between 250 and 3,000 ft-lb of torque, the CTM is suitable for the power generation, oil and natural gas, railroad and other critical industries, or anywhere power isn't available or elimination of hoses and cords makes for a safer workplace.
The CTM is a transducer-controlled, battery-powered torque tool designed for applying torque with an accuracy of +/- 3%. The tool employs "intelligent joint sensing" technology that continually measures the joint during tightening and, when necessary, deploys dynamic braking to avoid torque over-shoot due to motor inertia.

The CTM allows two-way communication with PCs or other devices via Bluetooth for live streaming data from the tool, and it can save and download up to 3,000 time- and date-stamped readings via USB cable. Conversely, information can be sent back to the CTM, such as tightening sequences, to aid the technician. Data can be output in CSV format to communicate directly with an end user's own data management system.