Published: 13 May 2020

13 May 2020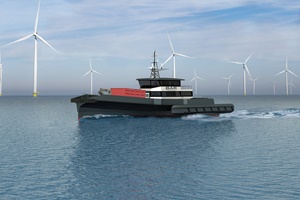 Chartwell Marine has announced its partnership with naval architects Bar Technologies, to support in the delivery of offshore wind crew transfer vessels (CTVs). The partnership will drive forward the development of new vessel designs ranging from 30m CTVs through to 60m service accommodation and transfer vessels (SATVs), making use of BAR's foil optimisation and stabilisation system (FOSS).
Bar – with the support of Chartwell – have created a 30m vessel which can reduce vertical acceleration by up to 70% in 2.5m wave heights, helping with motion sickness and offering greater levels of availability in rougher seas. Bar's FOSS technology, which helps to dampen pitch and roll, will also be an option available on new Chartwell vessels, and can be offered and applied to the Chartwell 24 catamaran as well.