Published: 19 April 2021

19 April 2021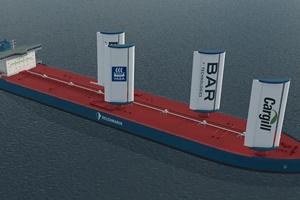 BAR Technologies and Yara Marine Technologies have reached an exclusive agreement to design and implement wind-assisted propulsion for the global shipping industry. The product will now be known as the BARTech WindWings by Yara Marine Technologies (WindWings).
Under the terms of the agreement, Yara Marine will offer WindWings in its portfolio to ship owners globally and manage the value chain of procurement, construction, installation, service and training for the WindWings in global locations and with BAR Tech retaining the obligation to continue to innovate and establish additional WindWings offerings.
BAR Technologies, Cargill and other WindWings project partners are also in dialogue with DNV, and have already been through the rigours of Hazard workshops in order to demonstrate the safety and effectiveness of the product, ensuring significant progress towards Approval In Principle. According to the partners, WindWings offers up to a 30% reduction in fuel consumption for bulk carriers, tankers and other large shipping vessels, by combining wind propulsion with route optimisation. The product features large solid wing sails that measure up to 45 meters in height, fitted to the deck of bulk cargo ships to harness the power of the wind.