Published: 30 April 2020

30 April 2020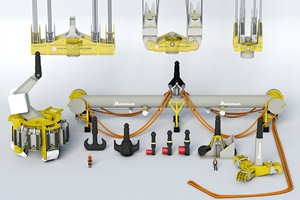 Jan De Nul Group and Huisman have joined forces for the heavy lift equipment on board of Jan De Nul's offshore installation vessels Les Alizés and Voltaire. Jan De Nul Group awarded the contract for the engineering, construction and delivery of two cranes to Huisman. For these cranes Huisman developed the Universal Quick Connector (UQC) based on the expertise of Jan De Nul Group's operational and engineering team.
The Universal Quick Connector is modular clamp which is mounted inside the crane's lower block. It allows to lift objects through a direct connection, without intermediate rigging and totally hands-free. The Universal Quick Connector attaches and detaches loads and tools directly to the crane's lower block without rigging, entirely hands-free and fully automatic. The task of (de)rigging can be prepared outside of the critical path of the lifting operation. The UQC is fitted with an active rotation device. It allows rotation of the load to fine tune its orientation without additional taglines. This enables the accurate positioning of heavy components as well as wind turbine components with strict bolt pattern tolerances.