Published: 11 March 2021

11 March 2021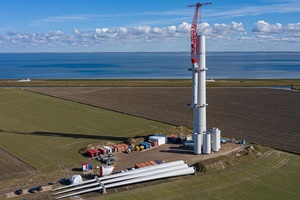 The first Enercon project with the new Climbing Crane LCC140 is currently being realised. Last week, the installation of the tower segments of an E-136 EP5 in Eemshaven, the Netherlands was started with the help of the Climbing Crane.
This is the first field operation for the new Climbing Crane. The Climbing Crane LCC140 can lift up to 140 tonnes and can be used throughout the whole installation process, from the tower to the nacelle and generator and even the rotor blades. The use of a large crane is not necessary thanks to the LCC140.