Published: 20 August 2020

20 August 2020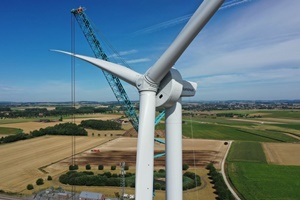 Enercon has installed the E-115 EP3 E3 prototype on a tubular steel tower with a hub height of 92 metres In Leuze, Belgium. This wind energy converter for strong-wind sites completes Enercon's EP3 platform portfolio. The design and architecture of various E-115 EP3 E3 components are based on the those of the E-138 EP3.
The activities at the prototype site include the adaptation and transfer of the parameters from the E-138 EP3 E2 control system to the E-115 EP3 E3. In total, three E-115 EP3 E3 machines will be set up in Leuze. The commissioning of the prototype is scheduled for September. The initial field tests of the E-115 EP3 E3 will provide insights for starting up series production. The E-115 EP3 E3 will be offered with nominal power ratings of 2.99 and 4.2MW and hub heights between 67 and 149 metres. In addition, Enercon developed a version of this wind energy converter that can withstand the special wind conditions in typhoon regions and wind speeds up to 89 m/s.