Published: 22 April 2020

22 April 2020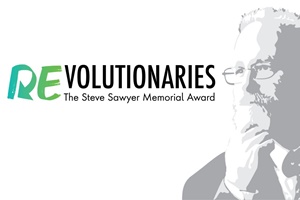 GWEC has launched a memorial award in honour of its late CEO Steve Sawyer - REvolutionaries: The Steve Sawyer Memorial Award. The award will honour Steve's life mission to pioneer the global energy transition, recognising young leaders in the renewable energy sector in developing countries.
Steve had a distinguished career in environmental and climate activism. During his tenure at Greenpeace International, he survived the bombing of the Rainbow Warrior ship while campaigning against nuclear testing in French Polynesia. Steve became GWEC's first Secretary General in 2005, and contributed to developing the wind industry in several countries, including India, China, Brazil and South Africa. Steve remained with GWEC until his passing in July 2019.
The winner will receive a prize that seeks to empower the recipient to further their work in driving the clean energy revolution. The prize package includes a monetary prize, funded travel to attend a regional GWEC event, as well as opportunities to promote the recipient's thought leadership to a global network.
A jury will determine the winner of the award, focusing on five key criteria: leadership, renewable energy, innovation, scalability, and diversity. The jury is composed of people close to Steve, including members of Steve's family, GWEC, REN21 and Greenpeace. Applications are now open for the award until 7 June 2020.