Published: 01 April 2022

01 April 2022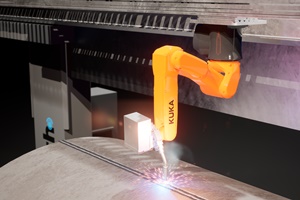 Inrotech has received an order from Welcon for the deployment of various welding robots, which will be used to weld wind towers and floating foundations.
The expansion consists of four large plate preparation lines, a new surface treatment facility, additional storage, and several welding shops. The expansion is in total 30.000 m2 of buildings and 45.000 m2 of new hard brick surface storage area, leading up to a total of 100.000 m2 under roof and 180.000 m2 of hard brick surface areas. Welcon expect to have a total of fifteen preparation and welding lines with a capacity of producing 200.000-ton steel for towers and 40.000-ton steel for Stiesdal floating foundations per year. The construction of the expansion has started in January this year and will be completed in September 2023. The Inrotech-C&B robots are equipped with Inrotech's WeldLogic and runs fully automatically throughout the whole process. The robot initially locates, scans and analyses the welding grove, thereafter, plans and performs the weld without any interaction from the operator.