Published: 03 December 2021

03 December 2021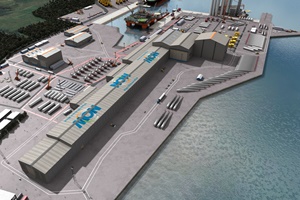 SSE is providing financial backing for a new offshore turbine tower tubular rolling manufacturing plant in the Scottish Highlands with debt investment of £15 million, helping green light an investment of over £110 million in a new UK-based offshore wind manufacturing plant in the Cromarty Firth.
The manufacturing plant is an initiative of Scottish-headquartered energy services company Global Energy Group (GEG) and offshore wind tower manufacturing company, Haizea Wind Group (Haizea). Nigg Offshore Wind (NOW) will be a 450-meter-long, 38,000m2 factory, capable of rolling steel plate to supply towers in excess of 1,000 tonnes each and other products, to the UK offshore fixed and floating wind industry in the UK and abroad. As a strategic backer behind the plant, SSE Renewables will be placing manufacturing orders with the factory from its pipeline of UK offshore wind projects. SSE Renewables expects to announce a first order contract with NOW in the near future. Once operational, the NOW plant will support the creation of up to 400 new full-time direct manufacturing jobs as well as more than 1,800 indirect jobs in the UK, with an estimated 1,100 of these in Scotland.