Published: 01 December 2020

01 December 2020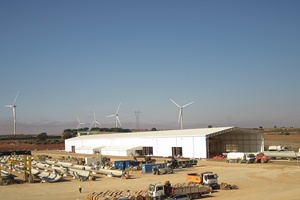 Nordex Group has started up its new mobile concrete tower production plant in Spain. In Motilla del Palancar, in Castilla-La Mancha, a production facility for concrete towers covering more than 120,000 square metres has been set up.
The company began production of the first concrete tower segments already in September 2020. Today the Group employs 250 people in this plant and later this figure is to be increased to 300. The factory only manufactures for the Group's own requirements.
The interior is equipped with cranes in order to lift the segments, weighing from 45 to 55 tons, within the factory. Seven moulds are used to produce the convex concrete tower segments, measuring between 17 and 20 metres. The company obtains the concrete from a local supplier in the immediate vicinity.
The plant is able to turn out a total of 50 concrete tower segments a week. This equates to two towers with hub heights of 120 metres. The company is currently equipping four wind farm projects in Spain with concrete towers. The segments are assembled on site in the wind farms when the turbines are set up. This factory is based on a mobile concept. In principle the plant can be completely dismantled and assembled again anywhere in the world close to the new wind farms to be built.