Published: 31 January 2022

31 January 2022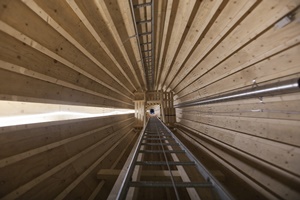 The European Commission invests € 1.5 million in wood technology company Modvion. The investment is done through the EIC Fund and is one part of the EIC Accelerator support of €6.5 million in funding Modvion was granted in 2020 to build its first commercial wind turbine tower in wood.
The funding consists of €2.4 million in grants and the remaining €4.1 million in equity. Modvion builds wooden wind turbine towers in laminated wood. The towers are built in modules that can be transported on public roads. Amongst other things, the EU funding will be used to build Modvion's first factory. In April 2020, Modvion's first wooden tower was erected on the island of Björkö outside Gothenburg. The 30-metre tower was ordered by the Swedish Wind Power Technology Centre at Chalmers University of Technology. In 2021, Vestas became a shareholder in Modvion. Additionally, Modvion has an ongoing collaboration with Enel Green Power and has signed letters of intent for wind turbine towers with Vattenfall, as well as with Rabbalshede Kraft and Varberg Energi.