Published: 17 May 2023

17 May 2023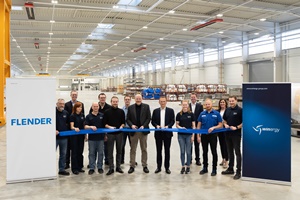 Flender has officially completed construction work on the expansion of its site in Voerde, Germany, with the opening of its new logistics and storage hall for the assembly of large gear units.
The hall has been built on an open area on the company's premises covering almost 8,000 square meters. The new building is part of Flender's investments to be able to handle the expected growth in the global wind energy business. In addition to large components for wind power gearboxes, the logistics hall also serves the industrial business.
Flender produces gearboxes and drive systems for the wind sector and the industrial business in Voerde. For wind energy under the Winergy product brand, this also includes complete drive trains consisting of a gearbox and generator. With 276,000 square meters of space and around 1,500 employees, it is the largest Flender site in Germany.