Published: 09 September 2021

09 September 2021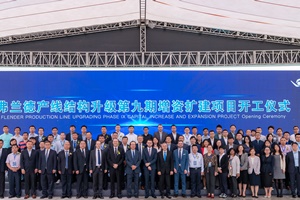 Flender officially started work on the expansion of production capacities for wind drive systems at its site in Tianjin, China. On more than 16,000 square meters, Flender is investing in a new production hall as well as administration and supply buildings for its wind energy business under the Winergy brand.
The new production facility is designed for the assembly of fully integrated drive trains and the medium-speed Winergy HybridDrive, which combines gear unit and generator into one drive unit. This also includes an expansion of test bench capacities for back-to-back testing of the entire drive train. After completion of the new building in November 2022, Flender is able to produce more than 1,000 HybridDrive units each year at the plant.