Published: 16 December 2021

16 December 2021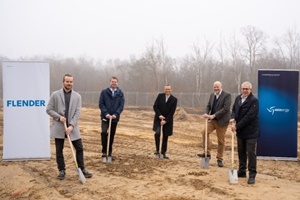 Flender has started construction work on the expansion of its German site in Voerde on the Lower Rhine. A new logistics and storage hall for the assembly of large gear units for the wind and industrial business is erected on almost 8,000 square meters of open space on the company's premises.
The 200 meters long and 40 meters wide new building is scheduled for completion at the end of 2022 and will be home not only to storage areas but also to goods receiving, incoming goods inspection and a cleaning area with a large-parts washing machine. This will allow large components to move from truck unloading to large gear assembly under roofed and short logistics routes. Part of the new logistics concept is also the lease of an additional logistics hall covering 11,200 square meters in the direct vicinity of the Flender plant in Voerde. Flender has concluded a lease agreement for this with the project developer Panattoni. The hall is also under construction and is scheduled to be ready for occupancy in August 2022.