Published: 02 November 2022

02 November 2022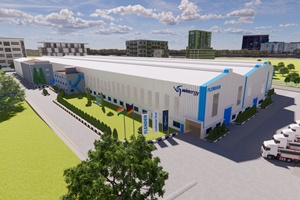 Flender is expanding production capacities at its two Indian locations in Chennai and Kharagpur. At the manufacturing site in Chennai expansion works for two additional production halls including a 7.5MW test bench for wind turbine gearboxes have now been completed.
Investments at the Kharagpur site in new buildings, machines and heat treatment are still on-going and expected to be completed in late 2023. Flender's production capacities in India will then sum up to roundabout 38,000 square meters. The new buildings allow for streamlined production processes for all product segments. Especially, assembly and logistics of large on- and offshore gear units is enhanced by additional heavy duty crane capacities that make heavy material handling possible. The new facilities also include new high rack storage and washing and painting booths for parts and gear units. Since their foundations in 1982 (Kharagpur) und 2005 (Chennai) the production sites in India have become Flender's technology and production hub for the region.