Published: 17 May 2023

17 May 2023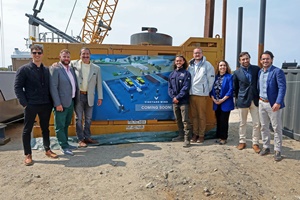 Vineyard Wind has commemorated the construction of operations and maintenance (O&M) facilities on Martha's Vineyard with a visit to Tisbury Marine Terminal. The facility, along with two others on the island, will provide support services for the windfarm once it's operational, creating 90 jobs.
In addition to O&M technicians, the facilities will employ people with a range of skillsets, such as site managers, planners, helicopter pilots, crew transfer vessel (CTV) support staff, and health, safety and environmental (HSE) managers, among other positions.
Work at the Tisbury Marine Terminal began in late 2022, with dredging and other site preparation activities. When completed, the port facility will be able to support up to three CTVs that will be used to transport O&M technicians to the windfarm.
Construction work is also active for the O&M service building which will be located on Beach Road in close proximity to the terminal. The facility will include offices, technician support space and storage. A new hanger is also being constructed at the airport to house a helicopter that will service the project.
Vineyard Wind LLC is an offshore wind development company that is building a commercial-scale offshore wind energy project in the U.S., to be located 15 miles south of Martha's Vineyard. Vineyard Wind 1, based in New Bedford, Massachusetts, is 50 percent owned by funds of Copenhagen Infrastructure Partners (CIP) and 50 percent by Avangrid Renewables, a subsidiary of Avangrid.