Published: 28 January 2008

28 January 2008
Discovering Latin American Wind Power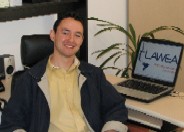 As with many of the new technologies to be found in Latin America, wind energy has arrived after being developed in other world regions. However, the Latin American socio-political situation and environmental trends around the world are creating a need to tap into this huge renewable energy source.
By Mauricio Trujillo, LAWEA Executive Director
.

Since the middle of the last millennium, Latin America has been an enigmatic region full of contrasts. This group of countries has always enjoyed great wealth, maybe not the industrial wealth of more developed countries, but wealth in its natural resources, which have been, and still are, of vital importance to the entire world.

For many years hydroelectric energy has been the main source of electricity used in many Latin American countries, followed by fossil fuels. This is because hydroelectricity was the cheapest source of energy available. However, this situation will change in the next few years. To the likely increase in fossil fuel prices and the well-known danger of climate change, we can add the marked resistance to nuclear energy generation in the region, in addition to its high costs. Also, increased world political instability, and the threat that this implies to the stability of the fossil fuel supply, mean that this region is placing many expectations on renewable energy.

Many things need to be done in order to reach a friendly regulatory framework for the renewable energy sector. However, almost all the Latin American countries have taken some action in this field. Brazil and Chile are two examples where a regulatory framework for alternative energy sources has been promoted. This region has the advantage of being able to take lessons from European and North American countries in what could help and what has been shown to be useless when seeking to deploy clean energy, bearing in mind the socio-political and cultural differences of Latin America.

This region has exceptional places for wind energy generation. To mention a few promising areas: the Tehuantepec Isthmus (Mexico), Patagonia (Argentina, Chile), the Brazilian coast (especially the northeast region), Central America and Colombia, all have abundant wind sources. Almost all the Latin American countries have suitable territories for onshore wind generation. Some preliminary surveys have predicted a wind generation potential of about 140,000MW in Brazil, at least 100,000MW in Central America, more than 30,000MW in Mexico, around 20,000MW in Colombia, and at least 6,000MW just in Argentinean Patagonia. It means that a huge untapped wind energy potential exists in countries with a growing energy demand, and, with a few exceptions, without considerable fossil fuel reserves.

The Latin American Wind Energy Association (LAWEA) was created to improve cooperation and widen knowledge within the wind energy sector and is promoting its use through education, popularisation, advocacy and networking initiatives.

LAWEA is working towards the discovery of the potential of Latin American wind power. It is our hope and intention that the people already involved in the wind power business will set their sights on this group of countries and help us to establish and grow this renewable energy source in Latin America, a key region for the sustainable development of the world.