Published: 06 November 2013

06 November 2013
On 21 October Gamesa inaugurated its first offshore G128-5.0MW prototype in Spain at the Arinaga quay in Gran Canaria, Canary Islands. About 80% of the turbine is based on the company's 4.5MW onshore technology.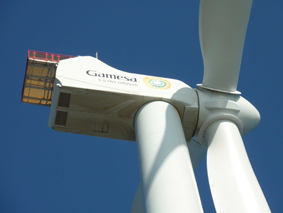 Core features of the turbine are:
Blades measuring 62.5 metres that are made of organic matrix composite reinforced with fibreglass and carbon fibre.
Rotor with a diameter of 128 metres and swept area of 12,686 square metres.
Two stages planetary gearbox.
Generator: synchronous with permanent magnets plus full converter.
Frequency: 50–60Hz.
Tower of 84 metres.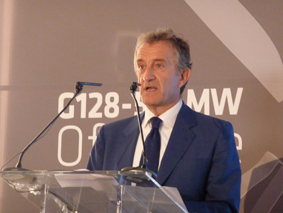 Gamesa's Executive Chairman Mr Ignacio Martín addressed the audience during the inauguration event. In his speech he urged the government that a clear policy and support is needed in Spain if Gamesa's success story in Spain is to be continued. Without this, the company might be forced to close some of its manufacturing facilities. He added that if there is no money to support new wind farms in the country the government should at least come up with a support system for repowering Spain's older wind farms in order to avoid loss of capacity.
| | |
| --- | --- |
| The President of the Canary Islands regional government, Paulino Rivero, Spain's Minister for Industry, Energy and Tourism, José Manuel Soria (left), and the Chairman of Gamesa, Ignacio Martín (right), put the turbine into service. | |
| | The blades of the prototype were manufactured in the facility in Aoiz, Navarre, Spain. The capacity of this facility is four blades per week. In total it takes about three weeks to manufacture a single blade from start to finish. |
| Each blade is 62.5 metres long and weighs 15 tonnes. The manufacturing process requires a lot of work by hand as well. | |
| | The nacelle is over 12.5 metres long, 4 metres wide and 4 metres tall and weighs 72 tonnes. The tower head mass (THM) is 270 tonnes. A low THM permits the extension of the use of monopiles for deeper waters. |