Published: 17 January 2006

17 January 2006
The European Energy Challenge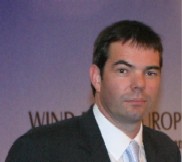 We now live in an era of energy uncertainty. The days of cheap and abundantly available energy are over. Europe is running out of indigenous energy resources in the form of fossil fuels at a time when a paradigm shift in energy prices is occurring. It is clear that this century will be characterised by intensified competition for energy, which will inevitably push up prices, lead to periodic scarcity and precipitate a scramble for reserves among the world's main economic blocks.
By Corin Millais, EWEA CEO
.
The EU's dependency on imported fossil fuel has become a threat to economic stability because of the impact of increased fuel prices on the cost base, most notably on the price of electricity. It is essential that Europe develops its own internal energy resources to the maximum extent possible, as well as promotes energy efficiency.

Europe is an energy intensive region heavily reliant on imports; already, today, it imports 50% of its energy needs and that share is likely to increase to 70% within two decades unless there is a change in direction. By 2030, oil imports would rise from 76 to 88% and gas imports from 50 to 81%, compared to 2000. Indigenous fossil fuel resources, such as the North Sea, are in rapid decline.

Europe is the world leader in wind power, where it has both a competitive and comparative advantage. Wind energy contributes to securing European energy independence and climate goals in the future, and it can also turn a serious energy supply problem into an opportunity for Europe in the forms of commercial benefits, technology research, exports and employment.

The economic future of Europe can be planned on the basis of known and predictable costs of electricity derived from an indigenous energy source free of all the security, political, economic and environmental disadvantages associated with oil and gas.

There is an urgent need to address inefficiencies, distortions and historically determined institutional and legal issues related to the overall structure, functioning and development of the broader European electricity markets and power infrastructure.

The European Commission has concluded that current electricity markets are not competitive for four main reasons: lack of cross-border transmission links, existence of dominant, integrated power companies, biased grid operators and low liquidity in wholesale electricity markets. These four barriers are also the main institutional and structural deficiencies preventing new technologies such as wind power entering the market.

The major issues of wind power integration are related to changed approaches in operation of the power system, connection requirements for wind power plants to maintain a stable and reliable supply, extension and modification of the grid infrastructure, and influence of wind power on system adequacy and the security of supply.

The need for infrastructure investments is not based on wind energy only; consequently, grid extensions, grid reinforcement and increased back-up capacity benefit all system users, not only wind power. An integrated approach to future decisions is needed.

A large contribution from wind energy to European power generation is feasible in the same order of magnitude as conventional technologies. The capacity of European power systems to absorb a significant amount of wind power is determined more by economics and regulatory rules than by technical or practical constraints. This was confirmed by the International Energy Agency (IEA) report published in September 2005 (Variability of Wind Power and Other Renewables. Management Options and Strategies, www.iea.org). Already, today, a penetration of 20% of power from wind is feasible without posing any serious technical or practical problems.