Published: 03 April 2007

03 April 2007
Utilities Seeking Reliable Systems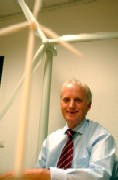 Last year, global new installations of wind turbines rose by around 33% to some 15,200MW. According to experts, the global market for wind turbines will grow by an annual average of around 13% between now and 2011. The heightened international interest in wind power systems is being spurred by the rising prices of fossil sources of energy. In addition, more and more countries are setting binding goals for extensions to renewable energies, with wind energy one of the least expensive options.

By Thomas Richterich, CEO of Nordex AG
.
Wind energy is increasingly becoming an established part of the national energy balance in the interests of ensuring reliable supplies and filling gaps in the grid.

A good indicator of the rising importance of wind power in the energy balance can be seen in the changed structures of wind farm operators and customers. Whereas utilities and international power station operators accounted for less than 30% of wind farm customers in the late 1990s, this share has since widened to over 50%. One of the side effects of this new customer structure is the growing industrialisation on the production side.

Over the past 20 years, a race for the largest turbine has emerged among the producers of wind turbines. Thus, installed capacity per turbine in Germany rose from 185kW in 1992 to over 1,800kW in 2006. Large wind turbines are specifically cheaper relative to their cost of purchase as the costs do not rise by the same rate as output. During the same period of time, manufacturers lowered their prices by around 50%. Basically, this has been one of the reasons for the success of our industry. If it were not for multi-megawatt turbines, wind energy would not be as competitive with conventional electricity production as it has become today.

It thus comes as no surprise to learn that customer demand is particularly strong for megawatt turbines, i.e. in the 1,500-2,500kW class. Experts report that demand for these turbines has risen by around 50% per annum over the past years, while the market as a whole has grown by only around 12% each year. However, this trend stagnated for the first time in 2005, providing in our view clear proof that large industrial customers are now focusing more on system reliability and availability rather than merely concentrating on price per kilowatt at the acquisition level.

Utilities and international power producers seek high and regular energy yields over the service life of their assets. In other words, averting the risk of a production shortfall is considered to be more important than the advantages of greater output in the case of systems that have left prototype status. One example of this is the Nordex Group, which is well prepared for this trend. In 2000, the company assembled what at that stage was the world's largest turbine. Since then, around 400 N80/N90 (2,500kW) turbines have been assembled around the world. Only a few other turbines in this output class have proven their merits to the same extent as this model.