Published: 06 February 2017

06 February 2017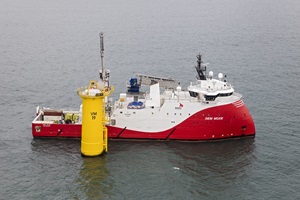 Siem Offshore Contractors (SOC) has announced that all 73 inner array grid cables of the Veja Mate Offshore Wind Farm have been installed and trenched. The submarine composite cables were installed using the "Siem Duo" consisting of the Cable Lay Vessel Siem Aimery and the Installation Support Vessel Siem Moxie.
The Siem Aimery loaded in excess of 95 km of copper core submarine composite cables directly into its two turntables in addition to the cable protection systems, which were loaded into a dedicated under-deck storage compartment. While the Siem Moxie assisted with the cable pull-in, termination and testing activities deploying SOC's offshore support units (OSU) equipped with generators, pull-in winches, tools and equipment for personnel life support at the individual offshore work sites. The OSUs were transferred using the Siem Moxie's 3D motion-compensated crane, while the active motion-compensated "Walk to Work" gangway was used to facilitate more than 10,000 personnel transfers to and from the individual foundations and offshore substation. The cable termination and testing works continue and are expected to be completed within the next couple of weeks.