Published: 17 January 2018

17 January 2018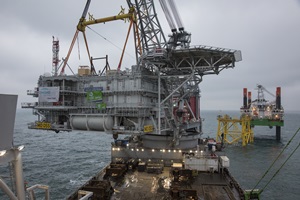 Installation of Belgian topside for offshore substation marks milestone in further construction of Merkur offshore wind farm. The topside is the result of a close cooperation between Belgian companies.
GeoSea is undertaking the EPCI contract for the Balance of Plant (BoP) for Merkur, including the design, procurement, manufacturing, installation and commissioning of the foundation structures, cables and offshore substation as well as the installation of the Wind Energy Converters (WEC's). The joint venture ENGIE Fabricom-Tractebel and Iemants was awarded with the contract for the engineering, procurement, construction, testing and commissioning of the offshore substation and associated jacket foundation. The topside structure has 4 decks, is 20 metres tall, weighs 2,500 tonnes and has an output capacity of 396MW. The 396 MW wind farm is scheduled for commissioning in 2018.