Published: 17 January 2018

17 January 2018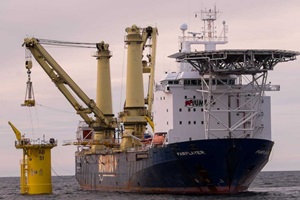 After the foundations, the 60 connecting pieces are now also prematurely installed. The so-called 'Transition Pieces', each weighing 400 tons, were taken from the port of Mukran on Rügen into the construction site and placed on the foundations and bolted together.
At the French shipyard STX France, the transformer station, which will be operated jointly by the project partners E.ON and Statoil and the transmission grid operator 50Hertz, will be transported by sea from the French Atlantic Ocean to the Baltic Sea in spring. Once this platform has been installed, the turbines are connected to the substation. The 75 kilometres of submarine cables required for this have already been delivered from the Nexans plant in Hanover to the base port of Mukran Port in Sassnitz. The Arkona project is located 35 kilometres northeast of the island of Rügen. The wind farm will have a capacity of 385MW and consists of 60 6MW Siemens turbines. The plants are based on monopile foundations at water depths of 23 to 37 metres. The investment amounts to € 1.2 billion. Arkona is a joint venture between E. ON and the Norwegian energy company Statoil.