Published: 29 December 2017

29 December 2017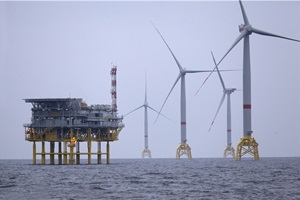 Iberdrola has connected its 350MW Wikinger offshore wind farm to the German power grid. The facility was built over the last 18 months in the Baltic Sea. With an investment of nearly € 1.4 billion, Wikinger will prevent almost 600,000 tonnes of CO 2 from being released into the atmosphere each year.
To build the project, 280 piles delivered by Windar were driven into the sea bed, each one measuring 131-foot long and eight-foot diameter and weighing 150 tonnes. Seventy 620-tonne foundations were manufactured by Bladt in Lindo (Denmark) and by Navantia at Fene shipyard (Spain). The AD-5-135 turbines, with 5MW unit capacity, were fabricated by Adwen at its plants in Bremerhaven and Stade (Germany). The offshore substation, named Andalusia, will be used jointly by Iberdrola and 50Hertz, one of the German system operators. It was manufactured by Navantia at its Puerto Real (Spain) facilities, weighs 8,500 tonnes.