Published: 25 October 2021

25 October 2021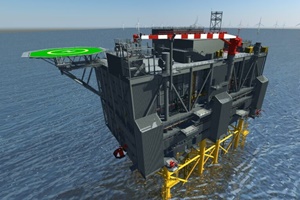 KenzFigee has signed a contract with Iv-Offshore & Energy to deliver an electric hydraulic Ram Luffing offshore crane for installation on the HVDC offshore converter platform for Sofia Offshore Wind Farm, to be sited on Dogger Bank in the North Sea.
The crane is equipped with a 40-metre long box boom which enables personnel handling and supply boat lifts of up to Hs-5m, according EN13852-1, and platform lifts with safe working loads from 19 to 25 tonne. The Ram Luffing crane will be built, assembled and tested at KenzFigee facility in Zaandam, the Netherlands. In the first quarter of 2022, it will be shipped to Batam, Indonesia where Sembcorp Marine will install it on the HVDC (High Voltage Direct Current) offshore converter platform being fabricated for Sofia Offshore Wind Farm.