Published: 24 October 2022

24 October 2022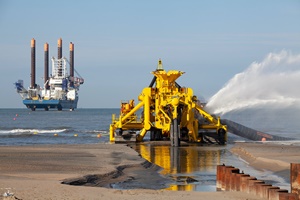 Both TenneT's sea cables for Hollandse Kust North and West Alpha have been laid in the bottom of Heemskerk beach (Netherlands) and in the seabed by contractor Jan de Nul Group.
This concludes the job for the intertidal trenching vehicle Moonfish off the coast of North Holland, the Netherlands. The first of the two front cables (West Alpha) will be sailed from South Korea to the Netherlands before the end of the year. Upon arrival, cable laying will start immediately.