Published: 21 October 2022

21 October 2022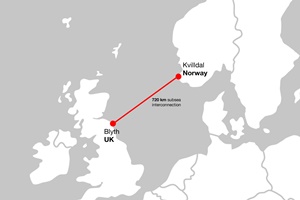 Hitachi Energy has handed over the North Sea Link power interconnector to Statnett, the national power grid operator in Norway, and National Grid, which owns and manages gas and electricity infrastructure in the UK and northeastern USA. The link interconnects Norway's and the UK's power grids, which are separated by the North Sea.
North Sea Link has the capacity to transmit 1,400MW of renewable power through a 720-kilometer HVDC underwater cable. It allows Norway to import wind power from the UK and the UK to import hydropower from Norway. Hitachi Energy designed, engineered, supplied and commissioned the enabling technology for the interconnector – two HVDC Light converter stations, one at Blyth in northeast England and the other at Kvilldal, Norway. The stations convert the alternating current power from the grid into direct current for efficient transmission in the subsea cable, then reconvert it back to alternating current for use in the receiving grid.