Published: 30 July 2020

30 July 2020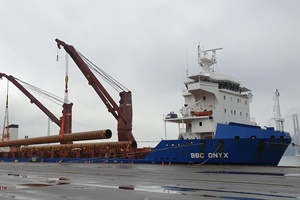 Jan De Nul Group has started transportation of the pin piles for the 376 MW Formosa 2 Offshore Wind Farm. The first batch of 26 pin piles was loaded on the transportation vessel BBC Onyx at EEW SPC's facilities in South Korea and offloaded in the Formosa 2 marshalling port of Taichung in Taiwan.
Jan De Nul Group subcontracted EEW SPC for the supply of all 194 pin piles needed for the Formosa 2 Project. EEW SPC started fabrication in January at three different yards in South Korea and Malaysia. All the pin piles will be stored in Taichung Port until foundation installation commences later this year. Developed by Macquarie's Green Investment Group, JERA and Swancor Renewable Energy Company Ltd., and located between four and ten nautical miles off Miaoli County, the 376 MW Formosa 2 OWF will have 47 Siemens Gamesa 8 MW turbines on jacket foundations in up to 55m water depth.