Published: 23 July 2021

23 July 2021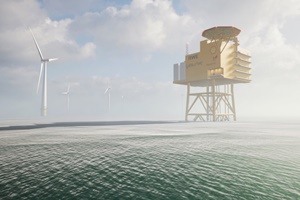 Project partners RWE, Shell, Gasunie and Equinor signed a declaration of intent to further intensify their collaboration on the AquaSector project - the vision of a large scale German offshore hydrogen park.
The AquaSector project intends to install approximately 300MW electrolyser capacity to produce up to 20,000 tons per year of green hydrogen offshore. The green hydrogen is planned to be transported via a pipeline, called AquaDuctus, to Helgoland starting in the year of 2028.
The partners see the AquaSector project also as a 'proof of concept' for the realisation of the AquaVentus vision of producing up to 10GW of green hydrogen offshore by 2035 and transporting it via an extended pipeline to mainland Germany.
The first step in the AquaSector project for the partners is to carry out a detailed feasibility study. The study will provide important initial indications of the conditions under which the large-scale offshore hydrogen park can be successfully realised as well as the technical and commercial challenges which need to be overcome in regards to offshore hydrogen production.