Published: 19 July 2022

19 July 2022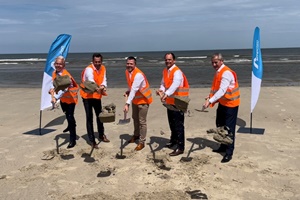 Construction work has begun on the DolWin4 and BorWin4 offshore grid connection systems: On Norderney's North Beach, Lower Saxony's Environment Minister Olaf Lies and island mayor Frank Ulrichs symbolically broke ground with employees of Amprion.
Representatives of Lower Saxony authorities as well as organizations from the fields of nature conservation and tourism took part in the ceremony.
The drilling to cross below the island of Norderney marks the start of construction work for Amprion's first offshore projects, which are scheduled to go into operation in 2028 and 2029: DolWin4 and BorWin4 connect North Sea wind farms with the onshore transmission grid. This summer, Amprion will drill the first four of a total of twelve horizontal wells in the coastal sea. The drilling will be carried out using the so-called HDD (horizontal directional drilling) method. In this process, cable protection tubes are inserted into the drilling channels, into which the DC (direct current) cables are subsequently pulled. For the construction work, Amprion is using a construction window set by the authorities between mid-July and the end of September. This summer, Amprion will drill a length of around 1,100 meters from the center of the island in the direction of Nordstrand. In 2023, the borehole will be drilled from the center of the island in a southerly direction, before the coastal protection dike near Hilgenriedersiel is finally crossed in 2024.