Published: 10 July 2023

10 July 2023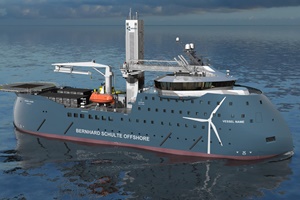 Bernhard Schulte Offshore and Ulstein Verft have signed a contract for the design and construction of two Commissioning Service Operation Vessels (CSOVs) of the Ulstein SX222 design.
The contract includes options for four additional vessels. The vessels, which utilise the Twin X-Stern design, feature two sterns and main propellers located at both fore and aft. The ships have a large, centrally positioned walk to work motion compensated gangway and elevator tower for personnel and cargo transfers. Furthermore, a 3D compensated crane capable of 5-ton-offshore-cargo lifts is installed. The vessels have a length of 89.6 m and a beam of 19.2 m. The SX222 design platform is adapted to the shipowner's needs, including single cabins for 110 persons. In total, the vessels will be able to accommodate 132 people. The ships will have hybrid battery propulsion and be prepared for methanol fuel.