Published: 23 July 2021

23 July 2021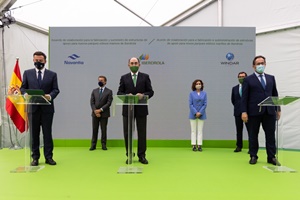 The chairmen of Iberdrola, Navantia and Windar have signed a framework collaboration agreement to manufacture and supply XXL monopile foundations as part of the energy company's growth strategy in offshore wind.
Under the agreement, Iberdrola will be able to place orders for 130 XXL monopile foundations with the Navantia-Windar consortium between 2023 and 2025 for future offshore wind farms, worth up to €400 million. As a result of the agreement, the consortium formed by Windar and Navantia will erect a XXL monopile factory on land at the Navantia shipyard in Fene (A Coruña), Spain. The consortium's planned investment amounts to €36 million with production at these facilities set to provide jobs for 1,000 people. The new XXL monopile factory, which will fabricate foundations over 100 m long and weighing up to 2,500 tonnes, will be up and running within 13 months.