Published: 26 July 2021

26 July 2021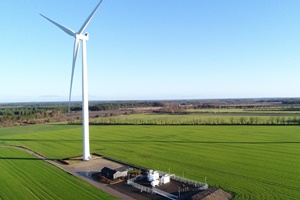 SSE Renewables and Siemens Gamesa Renewable Energy have signed a Memorandum of Understanding (MoU) to explore the opportunity to produce and deliver green hydrogen through electrolysis using energy from two onshore wind farms in Scotland and Ireland.
Under the partnership, SSE Renewables and Siemens Gamesa aim to co-locate hydrogen production facilities at two selected onshore wind farms, one each in Scotland and Ireland to be announced in due course, from which the partners will begin production and delivery of green hydrogen through electrolysis. The partnership aims to encompass the full green hydrogen value chain, including construction, supply chain management, customer offtake and storage, end user requirements, reliability and operation and maintenance. The two companies will also aim to work with green hydrogen customers across a range of industries including transportation, major distilleries and gas network operators.