Published: 24 April 2017

24 April 2017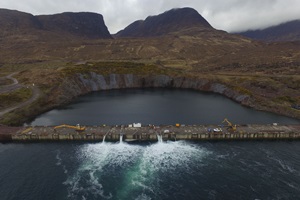 Kishorn Dry Dock has signed an agreement to use the site during the construction of the world's largest floating wind farm. The dry-dock is one of the largest in Western Europe and will now be used to help build the floating turbines for Kincardine Offshore's development of eight turbines off the coast of Aberdeen.
The agreement between Kishorn Port Ltd and Kincardine Offshore means work will start at the site in August, with the first turbine of the 50MW array expected to be in the water in the second quarter of 2018. The agreement with Kincardine Offshore will see Kishorn Port used for the fabrication of the semi-spar substructure for the 6MW turbines, which will operate 15km off the coast of Kincardineshire. The agreement will directly lead to the creation of up to 200 jobs in the area.