Published: 26 June 2017

26 June 2017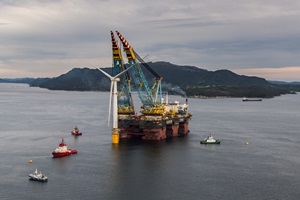 Five Siemens Gamesa turbines of 6MW have now been installed on floating foundations in Stord, Norway, at the 30 MW "Hywind Scotland" project. From the deep fjord outside Stord on the west coast of Norway, the floating wind turbines will be towed to Scottish waters. The world´s largest floating wind project will be located 25 kilometers off the coast of Peterhead in Aberdeenshire, Scotland, at water depths between 90 and 120 meters.
The floating foundations in the Hywind project are ballast-stabilized and anchored to the seabed with mooring lines. The Hywind concept has already proven its effectiveness in 2009, when Statoil and Siemens Wind Power successfully installed a 2.3 MW Siemens Wind Power turbine at the first full-scale floating wind turbine project worldwide, Hywind Demo. At the same time, Siemens Gamesa gathered a lot of experience on the specific requirements regarding the control parameters on a moving wind turbine under offshore conditions. For the floating installation, the technicians developed new controller algorithms for rotor pitch and yaw drive regulation. Commissioning of the Hywind project is planned for 4Q17.