Published: 06 March 2018

06 March 2018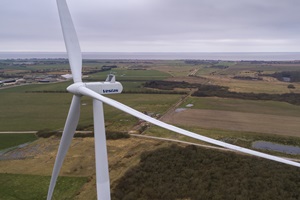 Vestas is expanding its 2MW platform for low- and ultra-low wind conditions by installing a prototype V120-2.0MW turbine with the ability to run in 2.2MW Power Optimised Mode.
At the same time, Vestas is introducing an upgraded 2.2MW nominal rating turbine that expands the 2MW platform into medium to low wind conditions with high turbulence. The upgraded V120-2.2MW includes a stronger gearbox and reinforced blades that strengthen performance in higher wind conditions.
The V120-2.0MW prototype is operating at the Lem Kjær wind park in Western Jutland, Denmark. The prototype will undergo a test and verification programme to ensure reliability before full-scale production commences prior to the first deliveries. The turbine at Lem Kjær will be converted into a V120-2.2MW prototype in the fourth quarter of 2018 where blades and gearbox will be changed.