Published: 20 May 2019

20 May 2019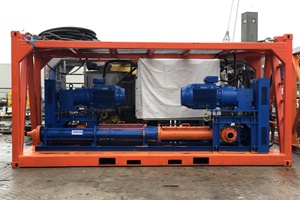 ULO Systems has unveiled the latest addition to its fleet of proprietary grouting equipment, the new-generation recirculating jet mixer (RJM) and high-capacity pump. In trials, ULO Systems' RJM achieved a mixing and pumping capacity of up to 120m³ per hour, an output 400% higher than traditional RJMs, enabling grouting works to be completed 75% faster.
ULO Systems designed and developed the RJM to meet the requirements of oil and gas, construction and renewables sectors for the execution of specialised grouting projects in offshore environments.
The RJM can grout and flush two separate annuli via its two holding tanks and water manifolds on one of the skids, while the second skid houses the pumps. Additionally, the RJM features two higher-capacity recirculating jet mixers on a single skid, facilitating higher capacities and thicker mixes. Two jets feed one mixer drum, creating a much more turbulent vortex for better colloidal dispersion of solids, resulting in a grout that will last as long as the asset's lifecycle.