Published: 17 December 2021

17 December 2021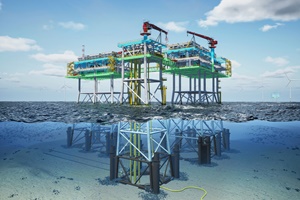 Tractebel and partner companies have developed an offshore infrastructure and processing facilities concept for the storage of hydrogen in offshore caverns.
The design study outlines a solution for large-scale hydrogen storage on the high seas: a scalable offshore platform for the compression and storage of up to 1.2 million m³ of hydrogen. Underground salt caverns will be used as storage and buffer for the hydrogen produced offshore, before the gas is transported via the pipeline network to the onshore grid and finally to consumers and customers. This offshore platform complex consists of a wellhead platform for the operation of the caverns and a series of compression platforms that enable a staged increase in capacity. If required, the plant can also be expanded in the future by additional modules. The study assumes a capacity equivalent to converting 2 GW of green offshore wind power into hydrogen. In addition to Tractebel's renewable energy and offshore employees, the engineering teams of DEEP.KBB and PSE Engineering were also involved in the design study.