Published: 27 May 2019

27 May 2019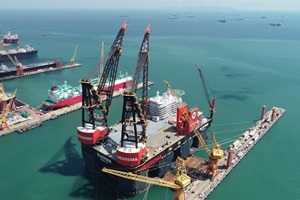 Heerema's newest semi-submersible crane vessel (SSCV) Sleipnir has a 220-metre by 102-metre reinforced deck area and was completed at Sembcorp Marine's Tuas Boulevard Yard. The vessel also has two 10,000-tonne revolving cranes which can lift loads of up to 20,000 tonnes in tandem.
Sleipnir can accommodate 400 persons and will be deployed globally for installing and removing jackets, topsides, deep-water foundations, moorings and other offshore structures. The vessel is also a dual-fuel crane vessel, with engines running on MGO and LNG. Heerema has already secured contracts to deploy the vessel in various offshore wind energy developments, including: transportation and installation of the Hollandse Kust Zuid (HKZ) Alpha HVAC platform in the North Sea, off the Dutch coast. The vessel will leave for sea trials shortly and is scheduled for delivery to Heerema soon afterwards.