Published: 17 March 2020

17 March 2020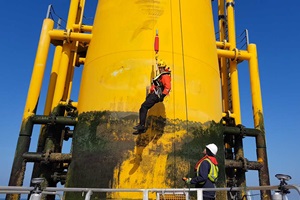 Pict Offshore develops solutions for the offshore wind market and has received a £250.000 Regional Selective Assistance grant from Scottish Enterprise to expand production at its site in Inverkeithing, Fife (UK) and create up to 13 new jobs.
The funding is part of a wider multi-million-pound investment by Pict Offshore to expand manufacturing at its Inverkeithing site and allows the firm to accelerate the development of its R&D and assembly capabilities as it ramps up production for the offshore wind market.
Pict Offshore was formed in May 2019 and is a joint venture between Ørsted and Limpet Technology, which had previously been supported by Scottish Enterprise and Strathclyde University to develop the new hoist technology. The partnership between Pict Offshore and Orsted has led to the commercialisation of the 'Get Up Safe' (GUS) system, a motion compensated personnel hoist. The hoist allows technicians to transfer on and off turbines more safely. The use of the technology also means that there is no longer a need for access ladders and boat landing metalwork on turbines.