Published: 08 November 2019

08 November 2019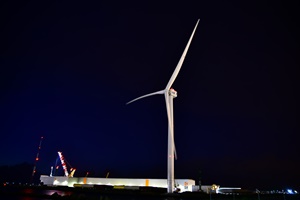 GE Renewable Energy has announced that its Haliade-X 12 MW prototype, located in Rotterdam-Maasvlakte (The Netherlands), has successfully produced its first kWh. Local teams will now proceed with the testing phase, during which GE will perform different types of measurements to obtain a Type Certificate for the Haliade-X in 2020.
The successful completion of this project was due in part of the support and commitment of several entities like the City of Rotterdam, The Port of Rotterdam, TNO-ECN (a Dutch research and development entity performing testing on site), TKI Wind op ZEE (Top Consortium for Knowledge and Innovation Offshore Wind), RVO (Netherlands Enterprise Agency), French Investment Secretary (SGPI), and the French Agency for the Environmental and Energy Management (ADEME).
In addition to this prototype unit, a second Haliade-X 12 MW nacelle is currently being assembled in Saint-Nazaire and will soon be shipped to ORE Catapult's testing site in the UK, where it will undergo a program that will replicate real-world operational conditions to reduce the time required to validate performance and reliability. In August, a 107-long blade was also shipped to ORE Catapult's site to undergo a full range of advanced static- and fatigue-testing procedures to demonstrate the blade's ability to withstand peak wind conditions and to simulate the blade's readiness for years of operation at sea.