Published: 29 April 2016

29 April 2016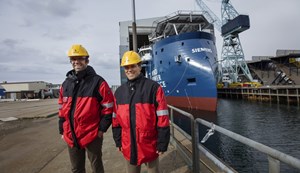 The first vessel within the renewable energy segment, and also the first with the newly-developed X-STERN hull line design, has been launched from Ulstein Verft. The service operation vessel for the offshore wind industry is one of two being constructed for Bernhard Schulte Offshore, and will be working for Siemens. The vessel will be servicing the Gemini offshore wind park offshore in the Netherlands.
Both vessels are based on the SX175 design from Ulstein, and are equipped with the hull features X-BOW and X-STERN in order to improve the sea characteristics when the vessels are positioned alongside the wind turbines during transferral of service technicians from the vessel through a heave compensated gangway. The vessels have accommodation for 60 persons in single cabins, of which 40 cabins are dedicated to technicians. The final detailed arrangements and equipment for the vessels have been developed and specified in cooperation with WINDEA Offshore GmbH & Co. KG, which is the Bernhard Schulte Offshore's affiliate for offshore wind projects.