Published: 30 January 2017

30 January 2017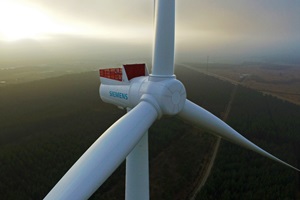 Siemens Wind Power has installed the latest version of its offshore direct drive wind turbine at the national test center in Østerild, Denmark. The SWT-8.0-154 is rated at 8MW and equipped with a154- meter rotor. The prototype was certified by DNV GL in January. The new offshore turbine was installed on a steel tower at a hub height of 120 meters.
The prototype will be used for both mechanical and electrical testing. The final type certificate is expected for 2018. With the full commissioning of the prototype, Siemens will enter the final development phase for the new turbine that allows for up to 10% higher annual energy production (AEP) under offshore wind conditions than the 7MW model. The higher rating has been achieved with only a few component upgrades including a new cooling concept and a new control system and therefore the 8MW turbine will benefit from the established supply chain and proven offshore direct drive technology components.